Making It Up As I Go Along
by Marian Keyes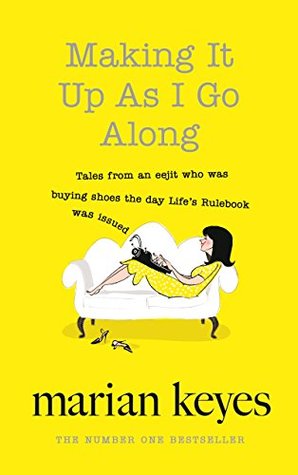 Publisher: Michael Joseph
Publishing Date: 11th February 2016
Source:  Copy provided by the publisher via NetGalley/Purchased
Number of pages: 464
Genre: Non – fiction, Entertainment
 Buy the Book: Kindle | Hardcover | Paperback
 Synopsis:
'Fabulous shoes, my badly made stews, an Antarctic cruise and ten pounds to lose.
Having to schmooze when I'd far rather snooze.
Skin care and bad hair and what should I wear?
All kinds of views, which I hope will amuse . . .'
Welcome to the magnificent Making It Up as I Go Along – aka the World According to Marian Keyes™ – A bold, brilliant book bursting with Marian's hilarious and heartfelt observations on modern life, love and much, much else besides.
Such as? you are determined to ask.
Well, how about her guide to breaking up with your hairdresser? Or the warning she has for us all after a particularly traumatic fling with fake tan. There's the pure and bounteous joy of the nail varnish museum. Not to mention the very best lies to tell if you find yourself on an Arctic cruise. She has words of advice for those fast approaching fifty. And she's here to tell you the secret secret truth about writers – well, this one anyway.
You'll be wincing in recognition and scratching your head in incredulity, but like Marian herself you won't be able to stop laughing at the sheer delightful absurdity that is modern life – because each and every one of us is clearly making it up as we go along.
Rating: 5/5
I don't usually read non – fiction, but for Marian Keyes I am more than willing to make an exception. I've already done, as I had read both of her "Under the Duvet" volumes of journalism and I enjoyed them immensely, and it was not different with "Making It Up As I Go Along" – it is a large book, with almost 500 pages, and I swallowed it within two days. But before I tell you why I loved this book so much, please let's stop and marvel at this gorgeous cover – I think one of the most beautiful, optimistic covers ever, this yellow makes me want to go on right now.
What I always adored Marian for is the fact that she's Honest. Honest with capital H. She doesn't hide things, she doesn't try to show herself in the best light, no, she just doesn't beat around the bush, she writes as it is, and sometimes she's so honest that it hurts. But somehow her being so honest, seeing that her life is just like any other lives, makes me feel this little better. What is also brilliant, is that I have exactly the same views at most of the things she writes about, the difference is only that she can so perfectly express those feelings with words, but well, now at least I know what it is that I feel.
"Making It Up As I Go Along" is a kind of book that you can read backwards or start in the middle, no matter, and a kind of book that you can put down for a moment or two (although you won't want to do this when you start reading it!) and pick up again, without having to worry that you may not get into it again. No. It covers many topics, this book, many, and the author is sharing with us her private life just as it is. I think I can't say that I had a favourite chapter, as everything, truly everything, was wonderful, hilarious, written in this bitter – sweet way that I so adore. But OK, I also have thousands of nail – varnishes, am addicted to body lotions and can't wait to finally, eventually finish my face cream to start this other, new, shiny glass…! Really, so many things I could relate to!
Marian's observations are so down – to – earth yet so witty, and this fusion makes for a brilliant read. She can change the most normal, trivial situation into something special, something hilarious with her observations and she is the best one to find absurdities in life and to question them in this specific, Marian's style. And yes, it is incredibly funny, but the author also sneaks there some more serious moments, more serious issues that make you stop for a moment and appreciate what you have.
So yes, the book covers a lot of topics – as Marian tells us not only about her love to nail – varnish but about her family, holidays (wow. Just wow), finding hobbies and developing love to going for walks, and she writes this all in this easy, often ironic, with a really great dose of self – irony style, and ultimately we get a book that is relaxing, is funny and brilliant to read and which you can pick up at any moment and read just only one article and feel like you're living again. A fantastic non – fiction, just what I needed at the moment and what I was expecting from Marian Keyes. Highly recommended!