A Summer at Sea
by Katie Fforde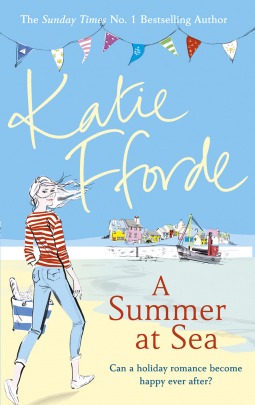 Publisher: Century
Publishing Date: 11th February 2016
Source:  Copy provided by the publisher, thank you!
Number of pages: 368
Genre: Literature/Fiction (Adult), Romance
 Buy the Book: Kindle | Hardcover | Paperback
 Synopsis:
Emily is happy with her life just as it is.
She has a career as a midwife that she loves . She enjoys living on her own as a single woman. But she's also feels it's time for a change and a spot of some sea air.
So when her best friend Rebecca asks whether she'd like to spend the summer cooking on a 'puffer' boat just off the Scottish coast, she jumps at the chance.
But she barely has time to get to grips with the galley before she finds herself with a lot on her plate.
Rebecca is heavily pregnant and is thrilled to have her friend on board doing most of the work. Then there's Emily's competitive and jealous kitchen assistant who thinks she should be head-cook, not Emily.
And there's Alasdair, the handsome local doctor who Emily is desperately trying not to notice.
Because if she falls in love with him, as he appears to be falling for her, will she ever want her old life back again?
Rating: 3/5
"A Summer at Sea" is Katie Fforde's 22nd novel, and every Sunday evening, when I turn the TV on, it looks like there is film that she's written for the German television, and I really have no idea how she does it. I usually don't watch TV, am not the biggest fan of movies, but those written by Katie are – just like her books – uplifting and full of great settings, and I really like watching them, it's my hidden pleasure
And also, when I read synopsis to "A Summer at Sea" I thought this might be a really great read. And I also adore the cover of this book – this blue is so incredibly beautiful and cheerful and it makes me miss summer already!
However, I am in two minds about this novel. The larger part of the book felt like Rebecca was match – making Emily with Alastair, and I couldn't stand it, to be honest, because she did it with no subtlety. Then there was knitting. Tons of knitting. I am not a fan of knitting but I do like to read about things that I don't know much about but this knitting was just little too less imaginable for me, not to say boring. And then – and I really don't like it – people were trying to convince Emily that there is no living without children and that she's only going to be happy when she's with a small bunch of her own toddlers and pregnant again. Hello? We're living in the 21st century, and the book is also set in the 21st century, and I thought the times when only having a child was a significant determinant of being a "real" woman have long gone? It just sounded so, so patronizing and old – fashioned.
I was also promised that the puffer was made a queen of the book, but I didn't feel it. Also, the fact that I had to google puffer boat to see how it looks like and what it does, doesn't tell well, no? But at least I have seen the photos of coal being lifted out by the passengers and how the kitchen looks like and I feel very contented
Though must admit that I thought it's much bigger and therefore spending holidays on such a boat, with other people, would be impossible for me – looks like there is no private sphere at all.
The characters were also too straight – forward for my liking, and they felt a little too wooden. I couldn't warm to Alastair, at all, I just didn't like him, there was something in him that just pushed me off but my final straw was when he told Emily that she puts her own career over other people happiness. Hello? And what else shall she do? Put other people's happiness over her own career? Excuse me, but after this action Alastair would see me never again. Emily I liked, she was opinionated and wasn't afraid of changes, and she was also able to stood for herself. She was also very helpful to people, there were moments I'd say too helpful for my liking, putting other people's need before her own. Nevertheless, Emily is a very dynamic character, and you can sit down comfortably, with a cup of sea, and see how she changes and develops throughout the whole story.
But of course the book is written in this typical, easy and peaceful Katie Fforde's style. The characters are speaking fluent English, they are chatty in this nice, bubbly way. They are also nice people, well – brought – up, full of respect to each other. They are good natured and enjoyable and they're looking for goodness in other people. The story itself, putting all my own problems aside, was uplifting little romance, touching upon many different issues. The author has also given her story one of the most beautiful settings and I adored the searching for otters, those were really the loveliest bits. She has also managed to create a wonderful atmosphere between the characters, this feeling of community was so easy to spot and truly palpable through the pages. I am sure that fans of Katie Fforde are going to adore this novel.