Summer Nights at the Moonlight Hotel
by Jane Costello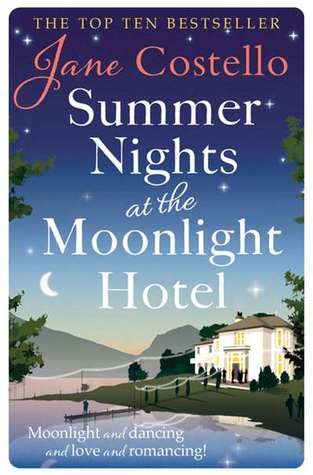 Publisher: Simon & Schuster
Publishing Date: 24th March 2016
Source:  Copy provided by the publisher, thank you!
Number of pages: 496
Genre: Women's Fiction, Contemporary
 Buy the Book: Kindle | Paperback
 Synopsis:
'LEARN TO SALSA DANCE,' the card in the shop window read. 'Experience the red-hot vibes of Latin America right here in the Lake District. Beginners and singles welcome.'
Lauren Scott lives in 'The most romantic place in Britain', but her love life is about as successful as her mountain climbing skills. The man she's obsessed over for two years has proposed to someone else – and her only solution is to save up for six months to go travelling, so she never has to set eyes on him again.
But when her friends sign her up for a dance class – in the same historic hotel where her beloved dad worked and her most precious childhood memories were formed – Lauren makes a horrifying discovery. It's been sold to a faceless budget chain, which has depressing plans in store. Worse, the entrepreneur behind it all turns out to be among a group of guys her friend Cate roped in to join the very same salsa class they've signed up for….
Jane Costello's funniest book yet – a story of love, friendship and some serious hip action . . . Get in the mood to mambo!
Rating: 5/5
A new Jane Costello book is each time a real treat for me. I've read all of her novels and loved them all, and I can't imagine that one day this author may stop writing – no way! Please, keep them coming, Jane! This time, I had a feeling that this time the book is more serious in tone, and to be honest, I missed this energetic enthusiasm and infectious Jane Costello's humour. Don't get me wrong, there were moments that I laughed, but altogether the book was more serious in tone, and I'm thinking that with every book Ms Costello's writing is maturing and that she tries her touch at some important and difficult issues. It doesn't mean that I didn't like this book – on the contrary, I adored it, it's only that I missed a little of this total airiness of the characters. With every new novel Jane's characters are older, more mature, and they behave accordingly, and it's absolutely okay. This time the author put our heroines up to plenty of really difficult decisions to be made and doesn't spare them troubles – but I find it really challenging and I am happy that Jane Costello tries herself with this difficult task, as I guess it isn't too easy to write.
The characters are, as always, so brilliantly drawn and developed and I felt so good in their company just from the very beginning. Lauren was great: there are two things that she loves with all her heart and these are the Moonlight Hotel and her work's colleague, Edwin, but both are either taken away from her (Moonlight Hotel has just been sold and it looks like the new owner want to re – decorate it totally, not only inside but also outside, and Lauren can't stand it, as she has so many memories with the hotel) or just unavailable, as Edwin is engaged. But when Edwin suddenly announces he has broken up with his fiancée, Lauren decides to take things in her own hand, and I am not going to tell you what exactly she does to persuade Edwin that she's The One he's looking for, but some of the scenes made me cry with laughter. Lauren often puts herself in many embarrassing situations, she's loyal and she's willing to forgo her own dream to help her friend. She's simply one of the loveliest characters that read about, she's full of warmth, she makes mistakes, she always thinks about the best one – liner when it's too late and she adores her job – she's a teacher, just like I am, and she has a nig heart for her pupils.
Now, from the beginning I couldn't believe what Lauren sees in Edwin – and I'm not going to say anything more as I don't want to spoil the book for you, but I was like. OMG! Lauren! Really? Edwin was this kind of character that made you want to take something very hard and hit him repeatedly on his head. Nevertheless, plenty of situations with Edwin had made me laugh cynically.
This book is a relatively slow read, and I mean the pace here. Sure, there are things happening, but on the whole the tempo is more unhurried and nevertheless, it sits with this story. The first half or so of it was more on the light side and even though Lauren had some dilemmas, I often found myself laughing out loud. Whereas the more we get into the book, the more serious the story unfolds and Lauren and her friends have tough nuts to crack. The stories of Emily and Cat were sometimes heartbreaking and incredibly sad, and I found myself rooting for them all, especially Cat, as this what happened to her was so unfair and she could do nothing, and I hated to watch her so defenceless and hopeless. I truly admired the great friendship between Lauren, Emily and Cat.
I must admit that I expected this book to resolve around Moonlight Hotel much more, as the synopsis signalized, but the Hotel is in fact only a background in this story – it's significant, but not as much, though at the end it really plays a big role for Lauren. So yes, it took me a little by surprise, the way it took on, especially as we got deeper and deeper into the book, and the author started to throw twists and turns and surprises at our poor heads, and not the likes that we would say are the nice surprises.
Even though the story also explores some more serious issues, and the author points at the dangers the social media are, it still is a feel – good read. It is a perfect mix of humour and emotions, a novel filled with lovely characters that we fell for and we keep our fingers crossed for them. And even with all those changes, with this grown – up feeling, "The Summer Night at Moonlight Hotel" was a heart – warming, engaging, hooking book that I didn't want to put down – so everything's OK :), just like Jane Costello has got me used to. There is this Ms Costello's trademark humour that I so love, and adding the more serious issues only made the book feel much more realistic. I really didn't want this story to end – I'm sure you know this feeling when you want to read the book as quickly as possible to see how it's going to end but on the other hand you DON'T WANT it to end. Yes, it was like this with this novel. Highly recommended!