The Curious Charms of Arthur Pepper
by Phaedra Patrick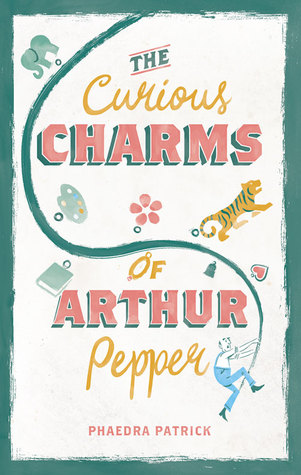 Publisher: MIRA
Publishing Date: 7th April 2016
Source:  Copy provided by the publisher, thank you!
Number of pages: 352
Genre: Literature/Fiction (Adult)
 Buy the Book: Kindle | Hardcover
 Synopsis:
When Arthur Pepper discovers a mysterious charm bracelet in his late wife's wardrobe, he sets off on a journey to discover, charm by charm, her secret life before they met.
Having been married for over 40 years, 69-year-old Arthur Pepper is mourning the loss of his wife. On the anniversary of her death, he finally musters the courage to go through her possessions, and happens upon a charm bracelet that he has never seen before.
What follows is a surprising adventure that takes Arthur from London to Paris and India in an epic quest to find out the truth about his wife's secret life before they met, a journey that leads him to find healing, self-discovery, and love in the most unexpected of places.
Rating: 4/5
"The Curious Charms of Arthur Pepper" by Phaeda Patrick is a book that surprised me totally with the way the plot developed. I was expecting the main character, the lovely, charming Arthur to discover much more of the world and to travel to the most hidden places of the globe and at first I was a little disappointed that it was not the case, but right now I think that maybe it's better this way, and for sure much more believable. Because it was more a journey of discovering himself for Arthur and I'm guessing that it was the main goal of the story, for Arthur to find himself afresh after the death his beloved wife.
Arthur Pepper was a very unusual character, for me at least. I don't read many books that feature sixty – nine – year – old male characters but this is one of the things that made the book so very exceptional, original and unique. One year after the death of his wife Miriam he discovers a mysterious charm bracelet and this is a beginning of a new chapter in his life – because he's not only to discover what's the meaning of each of the charms but he's also going to discover that Miriam had a life he was not aware of, and also to discover himself. And here starts his brilliant journey, and here we are introduced to many unusual, often extravagant characters, and next to Arthur's somehow estranged children and his neighbour Bernadette, we have characters that he meets when he's on his way following Miriam's secrets. They are all exceptionally well written, all so colourful and vivid. Arthur's adventures include being attacked by a tiger, getting robbed, wearing a pair of electric blue harem pants (you would never see him in such trousers before. NEVER. You would only see Arthur following his routine, day by day, week by week, month by month, so just imagine how much this coming out of his comfort zones must have cost him, and the author has wonderfully captured all these feeling of unease, uncertainty but also hope), making new friends and opening to the world – and this is a kind of story that is going to melt your heart, to make you slow down and to think. It's going to make you laugh and to shed a tear. This novel is full of warmth and you have a feeling that it envelopes you.
In a very warm and charming (yes!) way the author showed us with her story that it is possible for us to not really know those that we think we know best, and it made me think a little. She also showed – with the example of Miriam who, even though already gone for a year, was brilliantly and vividly pictured as a lovely, friendly woman, who lived a very exciting life before she met her husband, but for whom, after finding him, nothing else mattered, only family and love – what is really important in our lives. There came a moment that Arthur started to doubt if Miriam was happy with him, comparing the live she lived before and after she met him, but I think she was – she's experienced a lot and then found the right place at his side and she didn't need anything so special again.
There were moments that the story dragged a bit for me and I couldn't wait for something to happen, and some parts felt a little too far – fetched, but on the whole it was a very well written story that had me really hooked. But also thanks to those a little too far – fetched situations we have a chance to get to know the most unusual, colourful characters and places and I really appreciated it. It is a moving read, charming and at the same time sad and funny, and with adorable message that it's never too late for anything, that not everything is like we think it is and that we shouldn't be afraid of new experiences.