The Girl from the Savoy
by Hazel Gaynor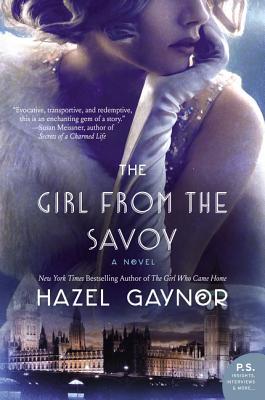 Publisher: William Morrow
Publishing Date: 7th June 2016
Source:  Copy provided by the author,  thank you!.
Number of pages: 448
Genre: Women's Literature, Historical Fiction
 Buy the Book: Kindle | Paperback
 Synopsis:
Presenting a dazzling new historical novel … The Girl From The Savoy is as sparkling as champagne and as thrilling as the era itself.
Sometimes life gives you cotton stockings. Sometimes it gives you a Chanel gown …
Dolly Lane is a dreamer; a downtrodden maid who longs to dance on the London stage, but her life has been fractured by the Great War. Memories of the soldier she loved, of secret shame and profound loss, by turns pull her back and spur her on to make a better life.
When she finds employment as a chambermaid at London's grandest hotel, The Savoy, Dolly takes a step closer to the glittering lives of the Bright Young Things who thrive on champagne, jazz and rebellion. Right now, she must exist on the fringes of power, wealth and glamor—she must remain invisible and unimportant.
But her fortunes take an unexpected turn when she responds to a struggling songwriter's advertisement for a 'muse' and finds herself thrust into London's exhilarating theatre scene and into the lives of celebrated actress, Loretta May, and her brother, Perry. Loretta and Perry may have the life Dolly aspires to, but they too are searching for something.
Now, at the precipice of the life she has and the one she longs for, the girl from The Savoy must make difficult choices: between two men; between two classes, between everything she knows and everything she dreams of. A brighter future is tantalizingly close—but can a girl like Dolly ever truly leave her past behind?
Rating: 5/5
Oh my, you guys have no idea how much I've been waiting for Hazel Gaynor's new release – since I've read "The Memory of Violets", that's made it to my Top Reads in 2015, and that's made me cry crocodile tears (because it was so beautiful!) I've been stalking Hazel on Twitter, looking for any news on her new book. And when the news came I couldn't be more happy. And – what's more – I am a very, very happy owner of a signed copy of "The Girl from the Savoy" and I am really going to love and cherish it for many years to come. So there.
Do I need to tell you after this intro that I've rated "The Girl from the Savoy" with 5 stars and that I loved it immensely? Thought so
Both "The Memory of Violets" and "The Girl from the Savoy" (I haven't had a pleasure to read Ms Gaynor's debut novel "The Girl Who Came Home" yet but I truly do hope to make up for this oversight very soon) are historical fiction but they are totally different, and yes, it surprised me a little, because I was expecting something in "The Memory of Violets" – style and I got a totally different in tone, times and plot story, but it didn't concern me in the slightest. Otherwise, after my initial surprise I very quickly started to enjoy the fact that the book is set in 1920s London and that the plot concentrates on a more positive and light aspects.
The novel is set during the Big War and post – war times, in the 1920s London. It is told from three points of view: the one from Dolly Lane's, a chambermaid whose life has been changed by the war, the one of Teddy Cooper's, Dolly's boyfriend whom we meet when he's heading off to war, and whom we get to know better in hospital, when a nurse is reading Dolly's letters to him, and the one of Loretta May's, an actress, a star. All the narrators' voices are incredibly strong and realistic and as all three characters are so different, all three voices give the readers a very different perspective on the same events and period.
The story introduces us to two very different women, leading two very contrasting lives. Dolly Lane is a maid at the Savoy Hotel but her dreams are reaching far beyond. She dreams of becoming a stage star. She tries her luck in various auditions, hoping to become a chorus girl but so far she didn't have any luck, hence the job as a maid – though working at the Savoy, one of the best and most spectacular hotels, is a merit in and of itself. The war and post – war times wasn't emollient for Dolly and throughout the course of the story we learn about her past.
Welcome Loretta May – who if living in our times would be on the covers of all tabloids and magazines! – has all that Dolly dreams of: fame, success, confidence, class, talent and is a star of many spectacles. But as all that glitters is not gold, she – as well as Dolly – is hiding a secret and she doesn't know how to tell it to her younger brother Perry, a composer who's just lost his zeal to work. Together they concoct a plan to find a muse for Perry that would help him to find his talent afresh.
The two women couldn't be more different, but the love to the stage is something that link them. They were both perfectly drawn and had a great depth to them and both were strong personalities, and I liked that they were such complex characters. Under Loretta's shining surface we are to quickly discover that there is much more to her than meet the eye. But it's the same with Dolly, and I loved her character – she was a strong – minded girl with ambitions, she was aiming high and was not afraid to have dreams. There is also some sadness to her and we soon realise that something happened to her, and when the secret was eventually revealed my heart went to her. She is vulnerable, yet ambitious and she didn't let the difficulties discourage her. She is also prone to accident, especially when cleaning the opulent rooms of rich and famous in the Savoy. There was this "something" in her that just made her a great character, in fact both the women were really great, and even though we are speaking about 1920s, they were both dreaming of better life, of being in different place, different time, just like it happens with us now as well.
I absolutely loved how the paths of the characters crossed and how intertwine they become, and the colourful, musical twenties in the background of this story. As in the previous book, this time it was also brilliantly and meticulously researched and I loved all the mentions of clothes, music and actors. The hotel is the perfect setting in this story, as it presents the two worlds perfectly. The upstairs and downstairs, the colourful and full of music ballrooms with the stars, a place that Dolly is dreaming of, and the other side, the one that the "chosen" ones are not to see, just like the lives of Dolly and Loretta, so different, and yet so close to each other. The author has also brilliantly captured the differences in both the life styles. While Dolly was saving all her pennies only to afford to see a West End show and her shoes were bearing traces of use, Loretta was used to the comfortable and generous life and the fact that she needn't have to worry about money. So what happened that these two women found each other and even become friends? Impossible became possible, and Perry is the one that links them together.
This is a brilliant, charming story showing us that appearances are not everything, as we see through Loretta May. You could expect that such a star like her would be inaccessible and arrogant but you couldn't be more wrong. However, the girls who so much would love to be one her place, to be Loretta May, don't know what hides behind all the beautiful dresses, silky shoes and red lipstick.
The author pays a lot of attention to the historical facts and details and you can see that there is a lot of research involved, and no matter if she describes the hotel, the dresses or London, with the smog, trams and theatres she brings this all to life. But also, she has managed to write all the facts and events in a wonderful, fresh and accessible way. "The Girl from the Savoy" is a multi – layered story, and it's not only a historical fiction but wonderful, captivating story about two very different women, fine representatives of those times, their lives and their influences. A vivid novel about 1920s glamour and its contrast, about couture dresses versus nurses/maids uniforms, and I loved every single second of it.
What I adored in this book was the fact that it was not only a story about Dolly and Loretta, about their dreams and lives, but that there were hidden layers as well. As both of the characters had secrets, and slowly the secrets started to unveil, which added so much to this book and made it even more special. There are difficult choices to be made and unexpected meetings to happen. The story also shows the influences of the war on young people and wonderfully captures all the emotions, and we have a real range of emotions there, from love and hate to hope and despair, friendships blossoming and broken, and add to this a cocktail of scandals, love, musicals and glamour – a wonderful, fantastic mixture, written in an engaging, captivating, fluid way. So for me again an absolute hit fro Hazel Gaynor and I won't be afraid to recommend this book to all of you, even those who are not such fans of historical fiction – there is much more to this book than only history.