Sunshine and Secrets
by Bella Osborne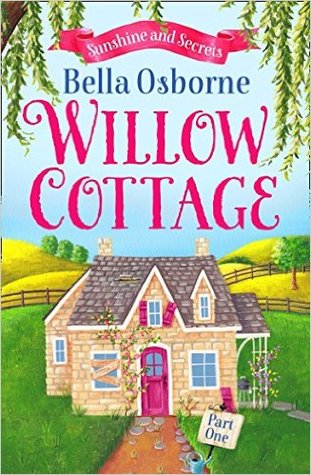 Publisher: Avon
Publishing Date: 7th July 2015
Series: Willow Cottage #1
Source:  Copy provided by the publisher via NetGalley, thank you!
Number of pages: 99
Genre: Women's Fiction, General Fiction (Adult)
 Buy the Book: Kindle
 Synopsis:
Beth is running away. With her young son Leo to protect, Willow Cottage is the lifeline she so desperately needs. Overlooking the village green in a beautiful Cotswolds idyll, Beth sees a safe place for little Leo.
When she finally uncovers the cottage from underneath the boughs of a weeping willow tree, Beth realises this is far more of a project than she bargained for and the locals are more than a little eccentric! A chance encounter with gruff Jack, who appears to be the only male in the village under thirty, leaves the two of them at odds but it's not long before Beth realises that Jack has hidden talents that could help her repair more than just Willow Cottage.
Over the course of four seasons, Beth realises that broken hearts can be mended, and sometimes love can be right under your nose…
Rating: 4/5
"Sunshine and Secrets" is the first part in the new series by author Bella Osborne set in the picturesque Dumbleford, a Cotswolds Village. I admit, I requested this short story on NetGalley, albeit hesitantly, as recently I've read a novel by Ms Osborne and had some issues with it, but nevertheless I loved the premise to "Sunshine and Secrets" – it sounds really intriguing and I am really glad that I decided to read it.
First of all, I truly like the idea of buying a cottage in the auction without even seeing it – not that I'd decide for such a great step myself, but as Beth did it was a great, promising start to the story. And well, the cottage looked so great in the auction catalogue, right, so what could go wrong? It turns out that a lot can go wrong but please read for yourself – it's hilarious. But our Beth is not a woman that quickly gives up – at least she looks like this (in this first part we didn't get many chances to get to know her deeply. We know that she's running from an abusive relationship, that she has a son and that she had a great job but for me there was not much about Beth's personality but I hope we'll get to know her better in the next instalments) and so she decided to renovate the cottage of course. As Beth is very new to the village, together with her we are introduced to the people of Dumbleford and one seems to be more eccentric than the other and I am truly waiting for an explanation of this – I hope it'll come! One of the villagers is Jack and they didn't start their acquaintance in the best possible way.
The narration alternates between Beth and her best friend Carly, and it is the same way Ms Osborne previous book "A Family Holiday" was written, which bothered me mostly when reading it, and it bothers me here as well, because those two stories are totally different and I am not sure if they anything in common, except for Beth and Carly being friends.
I've already found the village a charming place, even with some of the villagers being so controversial, but also some of them very friendly, like the barmaid in the pub, and Beth's behaviour bothered me a little – she seemed as if she patronised the people, as if she were better than all of them, she had moments that she was too smug and shallow for my liking, not too keen to allow her little boy to play with others and there was one scene in the pub when she didn't want anybody to sit next to her that made me feel a little uncomfortable.
But already in this first part the author gives us a foretaste of what we can expect in the future – a hooking, interesting story including abusive relationships, commitment problems, new beginnings. I really have a feeling that there is a lot coming. There is also the romance element introduced, which I already started to like, and I will be waiting for the next part impatiently. "Sunshine and Secrets" is a lovely, quirky, summery quick read, great for one evening with a glass of wine.